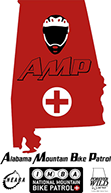 Founded in 2015, the Alabama Mountain Bike Patrol was a direct response to the growing concern for safety in the local cycling community. As the only branch of IMBA's National Mountain Bike Patrol in the state, our mission is twofold:
1. To educate, assist, and inform riders by telling them about the patrol, aiding them on the trails, and making them aware of local laws and policies.
2. In the event of a medical emergency, provide qualified and experienced riders as assistance to the local fire and police.
All members have been handpicked and thoroughly trained to help all riders on the trail and on the road.
We always look forward to lend a helping hand to anyone who might need us.
As a partner of the Anniston Fire Department and NEABA, our patrollers have a deep-rooted love for our area and will serve the community for years to come.
This video sums up what we're about, thanks to our "parent" club, the Clinton River Area Mountain Bike Association.
Interested in joining AMP? You can find us on Facebook, or send us a message. Your volunteer time is needed and greatly appreciated!